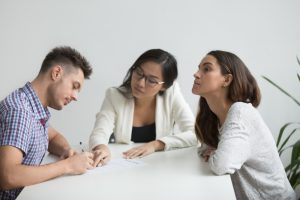 The best thing about uncontested divorce is that it is over quickly without the court getting involved. The worst thing about it is that you need to have everything in place before getting the judgment signed by the judge, including the most difficult of topics, child custody.
Even if you and your spouse are considering an amicable uncontested divorce, it is strongly recommended that you consult an attorney before submitting your paperwork to the court. At the Law Office of Andrew A. Bestafka, Esq., we can review what you've done and ask you questions about things you may not have thought about. Call us at (732) 898-2378 for a consultation with our Monmouth uncontested divorce lawyer today.
Child Custody in Uncontested Divorce
When the courts make rulings on child custody, the judge will ask many intrusive questions about your home and work life, how you and your spouse get along, and what restrictions you or your spouse want or need to make the agreement work. In an uncontested divorce, if you and your spouse are happy with your arrangement, you can do whatever you like if the court agrees it is in the best interest of the child.
Legal and physical custody. Both parents are considered to have joint, or equal, legal custody of their children in New Jersey unless there is some compelling reason they should not. In your uncontested divorce, this will normally be the case. Physical custody means which parent the child spends the most time with. If the child spends even one day more with one parent than the other, that parent has "physical custody" for purposes of the court.
Parenting time. New Jersey courts now recognize that both parents play an equal role in raising the children. Ideally, both parents have an equal amount of parenting time. In your uncontested divorce, you should aim for equal time for both parents.
Vacations and holidays. You should plan for vacations, holidays, and school breaks. If one spouse intends to visit out-of-state relatives and wants to take the kids, make that part of your agreement.
School and medical records. After a divorce, the parents with legal custody should both have access to the child's records. If it is not worded properly on the agreement, there can be problems for the non-custodial parent to retrieve them. You will need to ensure that both of you are correctly listed on the documents.
Plan for changes. One thing even the most amicable divorces often forget to take into account is that children grow up. Your divorce arrangement should make allowances for occasional review and modifications. If either parent wants to relocate, even to a different county or across the river to New York, you need to allow for that in the drafting of your agreement.
Your child's wishes. In a court-ordered custody hearing, your child may have little or no say where they go or with whom. This can make your child feel left out, or worse, like another piece of furniture being handed around. Your uncontested divorce can include your child's wishes if you are brave enough to ask.
Do I Need an Attorney If We Both Agree?
Even if you, your spouse, and even the children are all in agreement, you should have your paperwork reviewed by an attorney before sending it to court. There are things regarding child custody that you may not know, even in an uncontested divorce. If the judge believes that your agreement is not in the best interest of the child, they will not accept it. More than that, if you want to change it later, you must have language in the document that allows you to do so.
You are bound to the terms in the agreement. For instance, if you and your spouse agreed to a custody arrangement that says alternate Mondays through Sundays, you are stuck with that, even if your work schedule changes or your spouse moves to a different location. Although you can informally alter the arrangement, it is better to do so in court, and this requires the proper documentation.
You may not always agree. It is unfortunate, but after all, you are getting a divorce because you no longer want to be married. Someday you may disagree about matters regarding your children, and it is better to have all the legal documents in place.
You may want something else for your children. The increase of magnet, STEM, and charter schools means that a school you want for your child may not be in your district, requiring you or your spouse to move. Jurisdictional questions are always best handled by attorneys, which means your divorce decree needs to be written in a certain way.
Even if everyone always agrees, there is likely something you overlooked or forgot. The language of legal documents is intentionally hard to read, and the clerk at the courthouse cannot give you any advice. You can plan on at least one hearing for your custody agreement before your divorce hearing. It is best for you, your spouse, and your children if you let someone else look at your documents before you sign and date them.
How We Can Help
At the Law Office of Andrew A. Bestafka, Esq., we are exclusively a family law firm. We will review your case and make sure that everything about your divorce serves the best interest of your family and your children. If there is any discrepancy in anyone's understanding of the case, we will go over the matter until everyone agrees.
Our attorney has been a family law attorney for many years. He knows that even the most amicable divorce is not an easy time for you and wants to make it as seamless as possible for you and your family. When you come to him for advice, you can be sure that he will listen with compassion and concern and then give you the benefit of his years of experience.
If you are planning a divorce or have already begun and don't know how to proceed, contact the Law Office of Andrew A. Bestafka, Esq. at (732) 898-2378 and let us help you with your child custody arrangements and other questions. We are ready to help you with any concerns you may have to keep your uncontested divorce as stress-free as possible.