Property Purchased During the Marriage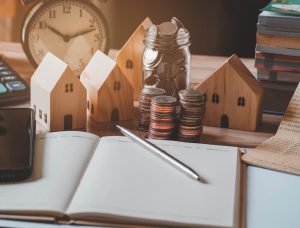 Divorce is never a pleasant experience. Even for couples who cooperate and can still communicate effectively, the process is long and laborious, sometimes taking years. But when couples come face to face with the division of property purchased during the marriage, a divorce can turn contentious in a hurry.
If you and your spouse need assistance working out the division of assets during a divorce, contact Law Office of Andrew A. Bestafka, Esq. right away. Our divorce attorneys have years of experience helping couples equitably and justly divide their property. Call (732) 898-2378 today for a confidential consultation and let us review your case. Don't let your marriage end in a bitter dispute over marital property. Call Law Office of Andrew A. Bestafka, Esq. today.
What is the Division of Assets/Property?
During a divorce, any assets owned by both parties have to be divided between them. Any assets acquired after the marriage date must usually be split between the parties, which can be difficult to manage. 
Co-owned assets like a house or car can have significant financial value and emotional attachment for both parties. Dividing these assets equitably usually requires the assistance of an attorney with experience in family law. 
Dividing up property largely depends on the type of divorce you and your partner are seeking, the type of property you own, and the divorce laws in the state where you reside. 
In an uncontested divorce, you and your partner can still express your wishes to one another and work out the terms of the separation. This can make the division of property easier as you can decide on your own who gets what after the divorce is complete without the help of a judge or arbitrator. 
A contested divorce is the opposite. In a contested divorce, there is a dispute between the division of property, child support, or spousal support, requiring the help of an attorney for both parties. If no agreements can be reached through mediation, arbitration, or other methods, a contested divorce will usually have to go before a New Jersey civil court judge to decide on an equitable division of property.
Community vs. Separate Property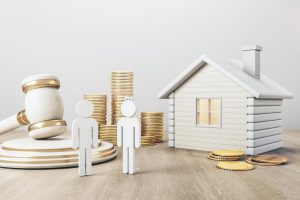 There are two main types of property to consider in the division of assets during a divorce:
Separate property

is anything acquired or obtained before the marriage or after the separation. In most cases, separate property is not considered during property division proceedings, and each party retains ownership of any assets not jointly acquired. This can include physical property and real assets. For example, a retirement account that was vested before the marriage took place would usually remain separate.

Community property

is anything jointly acquired during the marriage. Community property is what is usually divided during divorce proceedings. This may include any real property or assets to which you both contributed, such as a joint retirement account, joint savings, or a home purchased with income from both parties.
New Jersey and Asset Distribution
New Jersey is an equitable distribution state, meaning that a court will try to divide up all community property equally between concerned parties. This may mean that some separate property is considered in asset valuation and transferred from one party to another, depending on the circumstances. For example, if an item of separate property undergoes significant change or improvement during the marriage, such as renovations on a home, a New Jersey court may consider it community property.
To begin the division process, the court will first determine which property is separate and which is community property, then it will attempt to value all of the community property. This may be as simple as looking at bank statements for total dollar amounts or as complex as hiring an appraiser to find the value of a home or business.
In determining equitable distribution, a court may consider the following:
Duration of marriage or union

Age and physical and emotional health of the parties

The income or property brought to the union

The standard of living of the marriage or union

Any written agreements regarding the marriage

The economic circumstances of both parties

The income and earning capacity of both parties

The contribution of each party to the earning power or education of the other

The contribution of each party to the acquisition or maintenance of community property

The tax consequences of the distribution

The present value of the property
These, along with many other factors, may be considered. Talk to your attorney to find out more.
Why Do I Need a Lawyer for Community Property Division?
An attorney is necessary for property division and divorce actions for several reasons. 
A divorce is a complex undertaking, especially when valuable real assets or property are acquired during the marriage or union. Although some couples can handle the division of assets on their own, hiring an experienced attorney is recommended to make sure your rights are protected and assets are distributed fairly. 
Your attorney can make sure that all community property is accounted for and accurately valued. We will use our skills, experience, and connections to handle all the logistics of the valuation so you and your partner can concentrate on the items that have more sentimental than monetary value.
Our experienced divorce attorneys will bring an objective perspective to your case. A contentious divorce can make dividing property purchased during the marriage difficult to manage for both parties. We will judge based on the facts, not on our emotional attachment to a particular asset, and ensure the distribution is equitable, just, and fair.
Call Law Office of Andrew A. Bestafka, Esq. Today
If you and your partner are having difficulty dividing property acquired during the marriage, contact Law Office of Andrew A. Bestafka, Esq. right away. We have over a decade of experience helping New Jersey residents just like you get the positive results they deserve during the division of assets. Divorce proceedings can be contentious, but they don't have to be. Call (732) 898-2378 today for a confidential consultation, and let us help you move on with your life. Call Law Office of Andrew A. Bestafka, Esq. today.