Will I Have to Take on My Ex's Debts in a Divorce?
Divorcing couples must divide their property, such as real estate and bank accounts, and overlook debt division. However, marital debt should be an essential topic of conversation while negotiating the terms of a divorce. You must decide who will be responsible for specific debts to prevent confusion and financial issues in the future.
How Is Marital Debt Handled in New Jersey?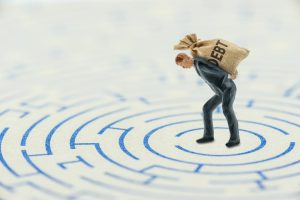 New Jersey is an equitable distribution state. Typically, the courts divide marital property equitably and fairly. The same is true for marital debts.
Equitable distribution does not necessarily mean a judge will order each spouse to pay an equal share of financial liabilities. It depends on the nature of the debt and what is most fair based on the circumstances.
For example, a judge can assign a mortgage to only one spouse if they have a job and the other doesn't or make a significantly higher income.
Marital debt is any debt either person incurs while married but before the date of filing for divorce. It doesn't matter if the debt is only in one person's name. Debt is considered marital debt if incurring it benefits both spouses.
Nonmarital debt is debt one spouse incurs before getting married. Typically, the person bringing specific debt into the marriage is solely responsible for it after divorce.
Nonmarital debt can also include debt one spouse incurs while married that only benefits them. For example, gambling or spending money on an affair can qualify as nonmarital debt.
Factors Involved in Dividing Debt
The courts consider much the same factors for dividing debt that they use in property division, such as:
Standard of living each person established during the marriage
Both spouse's age, emotional health, and physical health
Each person's overall economic situation
Property or income either spouse brought into the marriage
Expense and time required for one party to obtain the training or education necessary to achieve the marital standard of living
Duration of the marriage
The extent of either spouse's delay in pursuing their career goals while married
Either person's contributions to the other's preserving, wasting, acquiring, or improving the marital property, including contributions as a homemaker
The current value of all property
Tax consequences of division
Each spouse's income and earning capacity based on experience, education, training, custodial responsibilities for children, and duration of absence from the job market
Both party's liabilities and debts
Present or future medical or education trust needed for either person or a child
Contributions one spouse made to the other's earning power and education
One spouse's need to maintain the marital residence or use household effects because they have physical custody of a child
Are Marital Debts Protected from Creditors?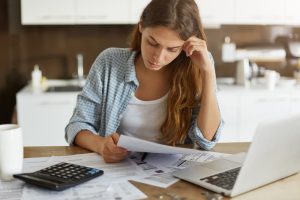 You can't prevent creditors from coming after you for unpaid bills despite having a final divorce decree signed by a judge. Creditors can pursue payment from either spouse regardless of the terms of a divorce.
For example, the judge might have assigned particular credit card debt to your ex. However, that doesn't mean you're off the hook for payment. If both names are on the account and your ex misses a payment, the creditor can go after you.
You can protect yourself by liquidating your assets to repay your marital debts. Resolving the problem before the divorce is final is your best course of action. However, paying off everything you and your spouse owe might be impossible. You can refinance the remaining debts in one person's name: the person responsible for it.
Another beneficial option is to include an indemnification clause in your settlement agreement. It doesn't prevent a creditor from pursuing payment from you. However, it requires your ex to compensate you for the payments you make on the debt and any costs you incur from a collections action.
Contact a Dedicated and Skilled Divorce Attorney Today
Incorporating all marital debt, such as mortgages, auto loans, and tax liabilities, into your property division agreement is crucial. You must take the necessary steps to protect yourself during negotiations so you don't leave the marriage with debt you should not have to pay.
The Law Office of Andrew A. Bestafka, Esq. has extensive experience representing New Jersey clients in divorce proceedings. We can identify potential issues and minimize financial risk while dividing debt between you and your ex. You can count on our legal team to fight for your interests and future.
If you're going through a divorce, call our Monmouth County divorce lawyer at (732) 898-2378 for a confidential consultation to learn more about how we can help. We're available 24/7 to speak with you, so you can reach us when you need us most.