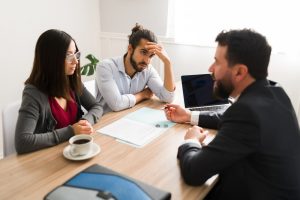 Are you thinking about or planning to file for divorce in New Jersey? Ending your marriage is never an easy decision, but sometimes it's the best way to get the fresh start you need. Here in New Jersey, no-fault divorces are standard, which means you don't have to prove blame or fault to end a marriage. However, the divorce process is still complex and frequently upsetting, so it's a good idea to seek advice from a knowledgeable divorce lawyer before you start.
The divorce process might be daunting, but finding the right divorce attorney doesn't have to be. When you reach out to a divorce attorney for an initial consultation session, you'll have the opportunity to speak confidentially with a concerned professional about what's best for you. During your initial meeting, you can ask questions to determine whether the lawyer is right for you, how they will approach your case, and what to expect from the process. In this blog, we discuss what you should know about divorce attorney consultations, including how to prepare and which questions to ask to make your session as productive as possible.
Law Office of Andrew A. Bestafka, Esq. has vast experience in family law, with an emphasis on divorces, child custody, alimony, and domestic violence cases. If you're filing for divorce in New Jersey, Mr. Bestafka is eager to help you navigate this challenging time in your life. Call (732) 898-2378 or fill out our online contact form for a confidential consultation session.
New Jersey Divorce Attorney Consultations
A consultation is the first chance a potential divorce lawyer will have to assess your situation and give advice. While they will undoubtedly ask you questions, this is also the time for you to bring up any concerns or questions you have about working with them. The attorney doesn't need to become your best friend, but you should only hire them if you feel confident in their abilities and comfortable trusting them with this highly sensitive matter.
Questions Your Attorney Might Ask
Knowing which questions the attorney will likely ask and what information you can provide will significantly speed up the process. Some of these questions might include:
Are you and your spouse currently living together?
What is the reason for the separation?
Is there any abuse present in the marriage?
Do you have children together?
Which debts and assets are in your name?
Do you share assets, financial accounts, or properties?
What is your employment status? Your spouse's?
It's a good idea to bring as much documentation as you can regarding your children, financial accounts, income, employment, and living arrangements. This will give your attorney a better understanding of the situation and allow them to start work on your case more quickly.
Questions to Ask Your Attorney
During the consultation, you'll also want to ask questions to ensure that a prospective lawyer is a good fit. Some questions you can ask include:
What is your experience with divorce and child custody cases?
How often do your cases go to trial?
What is the cost associated with hiring you as my attorney?
Are you available throughout the day for contact?
Will you handle my case directly or pass it along to your staff?
Ask as many questions as necessary until you are confident in the attorney's skills, qualifications, and experience. These questions will not dissuade an experienced attorney. A good lawyer will be able to answer with confidence and reassure you with their responses.
Does a Consultation Come with Any Strings Attached?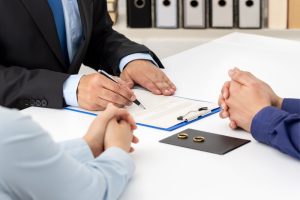 No. Your initial consultation with a prospective divorce lawyer is just an opportunity to get to know them, not a binding contract or financial agreement. There is no obligation to move forward with any attorney after an initial consultation session. Besides the time it takes to gather documents and discuss your marriage, you lose nothing and can walk away at any time.
Schedule Your Divorce Attorney Consultation Today
Are you ready to start the process of ending your marriage in New Jersey? No matter your reasoning, Law Office of Andrew A. Bestafka, Esq. will guide you through this process and help you plan for your future. If you are still unsure about a divorce or worried about how the divorce could affect your life, a consultation is a fantastic place to start. Attorney Andrew A. Bestafka has years of experience working with clients in situations like yours and is here to put your mind at ease. Reach out to Mr. Bestafka and his dedicated team today at (732) 898-2378 or through our website to take the next step.
Related Posts:
Questions to Ask Your Divorce Attorney
How Can a Divorce Lawyer Help with Division of Debt